This is my first time participating in any challenge, so hopefully I can finish them all.
I have put buttons on my left sidebar, but I need to list some books I plan to read. Later on, I'll probably add a page to make it easier for people to find my lists.
For Those About to Read is hosting a YA Mythology Challege. The button below or the one on my side bar will take you to the Challenge.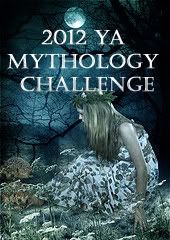 On this past year's challege, she listed certain levels, so basing it off of this current year's challenge, I'll be doing the
Minor god

: Read 10 books that incorporate mythology .
1. Abandon by Meg Cabot
2. Carrier of the Mark by Leigh Fallon
3. Fury by Elizabeth Myles
4. Destined by Jessie Harrell
5. The Goddess Test by Aimee Carter
6. Sweet Venom by Tera Lynn Childs
7. Artemis the Brave by Joan Holub
8. Athena the Wise by Joan Holub
9. Aphrodite the Diva by Joan Holub
10. Artemis the Loyal by Joan Holub
I might add or change books later on.
Next challenge I'll be participating in is 2012 TBR Pile Reading Challenge. There are several people hosting this one.
On this one, I'm choosing the level, 1-10 - A Firm Handshake
1. Supernaturally by Kiersten White
2. Cold Kiss by Amy Garvey
3. Illusions by Aprilynne Pike
4. Between the Sea and Sky by Jaclyn Dolamore
5. You're So Undead to Me by Stacey Jay
6. Born at Midnight by C.C. Hunter
7. A Beautiful Dark by Jocelyn Davies
8. Sea Change by Aimee Friedman
9.
10.
Third challege is the 2012 YA and MG Debut Author Challenge hosted by Kristi @
the Story Siren
I have to read at least 12. Since I'm participating in 4 challenges, I'll only do 12 at first. When I complete or come close to completing the other challenges I'll probably add more.
1. Incarnate by Jodi Meadows
2. Everneath by Brodi Ashton
3. Tempest by Julie Cross
4. Above by Leah Bobbet
5. The Selection by Kiera Cass
6. Of Poseidon by Anna Banks
7. The Catastrophic History of You and Me by Jess Rothenberg
8. Ditched: A Love Story by Robin Mellom
9. Shooting Stars by Allison Rushby
10. The Treachery of Beautiful Things by Ruth Frances Long
11. Above World by Jenn Reese
12. Halflings by Heather Burch
Last challenge is the 2012 YA Contemporary Challenge hosted by
Reading Angel
and
Katie's Book Blog
This challenge has levels as well. I'm going to aim for 5 +. I would like to do more for these challenges but college doesn't allow a lot of time.
1. The Fine Art of Truth or Dare by Melissa Jensen
2. Flirting in Italian by Lauren Henderson
3. Being Friends with Boys by Terra Elan McVoy ( I think the title changed to Bittersweet)
4. 52 Reasons to Hate My Father by Jessica Brody
5. The International Kissing Club by Ivy Adams
6. Welcome, Caller, This is Chloe by Shelley Coriell