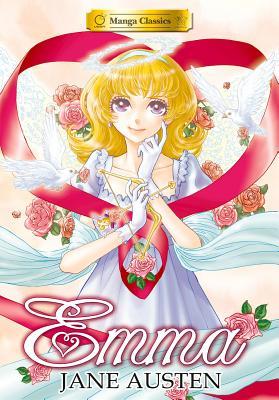 Title: Emma (Manga Classics)
Author: Jane Austen and Crystal Silvermoon
Published: June 18, 2015
Publisher: Udon Entertainment, Inc
Format: e-book
Source: for review
I received a copy from the publishers via Net Galley.
Emma Woodhouse and her father now live alone now that her governess, who she helped set up, has married. She has set her sights on trying to set up her new friend Harriet. Emma is concerned about people's status, and although the social class Harriet is unknown, Emma is determined to set her up with someone in good standing because she believes that Harriet's character shows she has a similar background.
Mr. Knightley, a friend of Emma's, encourages a farmer to pursue Harriet, but Emma has other plans in mind. Emma, herself, as vowed never to marry because of her father's particular way of liking to live. Will Emma's matchmaking schemes backfire?
I have only read a few classics and have never finished one by Jane Austin. When I was about thirteen or so, I tried reading Pride and Prejudice, but I think I wasn't at a mature enough level to truly enjoy reading a classic. When I was about eighteen, I started to read a small handful of classics and enjoyed them quite a bit.
I was so excited when I saw this cover on Net Galley. I love reading manga and thought this would be a good way to reintroduce myself to Jane Austen's world. I truly loved the artwork, and the artwork is one thing that draws more to manga. I can get really picky about drawings in manga and was not disappointed by the artwork.
Mr. Knightley was my favorite character in this book. He is one of the only ones that even tries to reign in Emma. I really didn't like her at first because of how she viewed people's standing. She does at least know she has that problem and does apologize once in the book when Mr. Knightley points out what happens.
I hope there are plans of doing Jane Eyre because that is my favorite classic that I have read so far. Hopefully, if readers like reading the manga, they will try reading the original.