I don't know if there are any other book bloggers out there that do this, but from time to time, I'll watch book vloggers or booktubers on Youtube. I really enjoy watching their book tags and decided I wanted to do some of their tags. I don't know if I'll do this every Thursday, but I think book tags are always a nice way to introduce new books with not a lot of information.
For this particular tag, I'm going to keep
Fall Time Cozy Book Tag created by

Sam of Novels&Nonsense

https://www.youtube.com/watch?v=Q-4nDR8jXi0
Fall Time Cozy Book Tag
1. Crunching Leaves: The world is full of color - choose a book that had reds/oranges/yellows
on the cover
The Queen of Kentucky by Alecia Whitaker
I haven't read this one yet, but it's about Ricki Jo, a farm girl who wants to fit in with the other popular girls at her small-town school. Her best friend, Luke, wants her to stay the same
2. Cozy Sweater - It's finally cold enough to don warm cozy clothing: what book gives you the
warm fuzzies?
Persuaded (The Jane Austen Diaries #3) by Jenni James
I've really enjoyed all of the books that I have read by Jenni James. All of her books are clean and fun! I really appreciate this for YA because it is sorely lacking in the genre for me. I have never read any of Jane Austen's books, but I have read re-tellings about them. I just had so many heart strings that were pulled during this book. I could understand where
both main characters were coming from this book.
3. Fall Storm: The wind is howling & the rain is pounding - choose your favorite book OR
genre that you like to read on a stormy day
I don't know if I truly pick a genre to read on a stormy day, but if I paid attention, I'd probably pick a contemporary romance. I know a mystery/thriller/horror would be better for most, BUT I do not want to be scared anymore because I really hate stormy weather.
4. Cool Crisp Air: What's the coolest character you'd want to trade places with?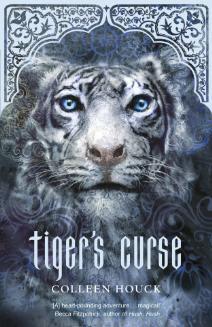 Tiger's Curse by Colleen Houck
Okay, with this pick, I don't necessarily think Kelsey is the coolest character, but she gets to do pretty cool things. I would love to go to a place like India and see and experience the culture for myself. I just love everything about this book!
5. Hot Apple Cider: What under hyped book do you want to see become the next biggest,
hottest thing?
The House Next Door by Richie Tankersley Cusick
This is an oldie, but I absolutely love this book. It's about a set of twins, Emma and Charlie. They dare each other to spend a night in the creepy house next door to them. Charlie doesn't last long, but Emma has several instances of meeting a guy who thinks she's someone else. Emma is intrigued by him and tries to figure out the mystery about him and who he mistakes her for. I think this would have been perfect to read for Halloween!
6. Coat, Scarves, and Mittens - The weather has turned cold & it's time to cover up - What's
the most embarrassing book cover you own that you like to keep hidden in public?
Tales from a NOT-SO-Fabulous Life (Dork Diaries #1) by Rachel Renee Russell
I would probably say any Dork Diaries book. I do like reading middle grade books, but I do get embarrassed by it!
7. Pumpkin Spice: What's your favorite Fall time comforts food/foods?
I really don't have any comfort foods specific for fall time, but I do love hot chocolate and hot apple cider
8. Warm, Cozy Bonfire: Spread the cozy warmth - Who do you tag?
I tag anybody who wants to do this tag. If any bloggers do this, please leave me a link to your blog! I'd love to see your list!
Also, I have a question. Do any of you ever think about doing Booktube? I know I have, but I'm too shy to do that sort of thing! Do any of you like watching their videos?