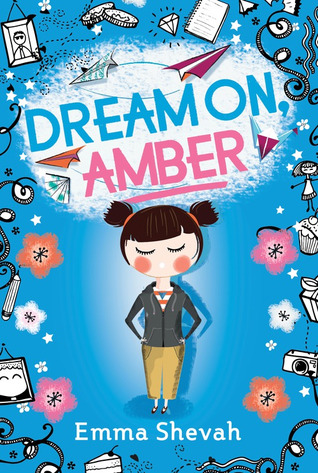 Title: Dream on Amber
Author: Emma Shevah
Published: October 6, 2015
Publisher: Sourcebooks
Format: e-book
I received a copy from the publisher via Net Galley.
Amber is going to a new school and is having trouble coping with her father not being with her family anymore. It doesn't help matters when her little sister decides to write their Dad and see if he will come for her birthday. Amber doesn't want to let her sister down and responds back to her letter. Unfortunately, Amber makes an enemy of a troublemaker at school and finds herself in several stressful situations.
I liked that this story dealt with a serious issue in a lighter hearted way that kids can find relatable. This book also touches on topics of lying and bullying. I found the end of the book endearing and found it really believable in how Amber coped with the situations she had at her middle school. She often imagines her "Dad" and talks to him whenever she finds herself stressed or when she has made some decisions that she shouldn't have made to begin with.
I did feel like the book dragged in places. I am pretty particular when I read children's books, so I do not really know how kids would respond to the places that seemed slow.
I would not recommend a child reading this book until the parents do because I remember reading it mentioning something that I was shocked was including for a children's book. It might not be a big deal for some parents, but I would not be okay with it and am not okay for a children's book.