For this week, I am including books/series that I read for myself and books that I liked for class. All of these I'm trying to stick to only high school reads. Some of these are short stories.
Read for fun:
Twitches series by H. B. Gilmour and Randi Reisfeld
Most people who have heard anything about this, is probably going to be from the Disney Channel Movie adaptation of Twitches or Twitches, Too.
I remember being bugged with how the movie was portrayed. Now, I do really like the Disney Channel movies, but I really love the book series as well. They are pretty different. They do have some of the same characters, but Elena and Karsh was not an item. They were more like a student and advisor/friend relationship. Huge, huge age gaps.
The magic and villan aspects are different, too. There is no mention of "The Darkness" in the series.
I did not mean to have a mini-rant. It's just I loved this series when I was about to begin or just beginning high school. This is a pretty long MG/YA series with 10 books to the series.
The Hunter (Forbidden Game #1) by L.J. Smith
'Til this day I have not read the 3rd and last book to this trilogy. I loved this trilogy but I just know my heart will hurt reading it. L.J. Smith reminds me a lot like R.L. Stine with her earlier works.
Dark Guardian series by Rachel Hawthorne
This is a fluffier, werewolf series that I inhaled when I was in high school. There are 4 books in the series, and each features a different couple, but the others make a cameo in the others for the most part. This would be a good starter series for people wanting to start reading shapeshifter/werewolf book because it is a really light paranormal series.
Dead is the New Black by Marlene Perez
This series reminds me a little bit like Buffy because it centers around a girl who thinks she is normal in an abnormal town. This does have a spin-off of like 2 or 3 books that take place in the town, but with a younger sibling of a character in the series. Definitely an underrated series. I believe this is also a good choice if you don't want a paranormal series that is really heavy.
Miss Match by Wendy Tolliver
This is one of the many Simon Romantic Pulse Comedies that I've read in high school. The imprint is a very fluffy, contemporary. This book is about a sister that is helping the new guy woo her sister.
Read for class:
Jane Eyre by Charlotte Bronte
I am currently reading a little bit of Pride and Prejudice, but Jane Eyre is one if not the only classic I have read by any of the classic female authors. I remember reading this and I began it very hesitantly. I read this one pretty quickly for me, especially considering the length and that it is a classic.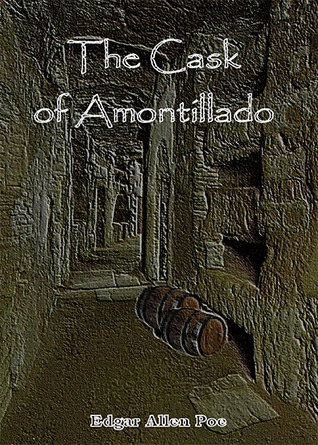 The Cask of Amontillado by Edgar Allan Poe
My absolutely favorite short story by Poe. I always feel crazy when I read things by him, but I definitely think that is his intent. I didn't feel as crazy as reading this one.
Julius Caesar by William Shakespeare
This is the only William Shakespeare play I've really read because when my class did Romeo and Juliet, the teacher did not have a lot of time to spend on it, so we only hit major points to the play. I didn't expect to like Julius Caesar, but I liked it a lot more than Romeo and Juliet. I think this is largely due because I couldn't stand how the actress was in the movie version of Romeo and Juliet.
Lady or the Tiger by Frank R. Stockton
This is a very open-ended short story that I really loved. It's really not long at all and highly recommend this, especially if you love speculating what decision someone made.
The Most Dangerous Game by Richard Connell
This one is also pretty different. A guy gets stranded on an island with a man who does hunting a little differently and wants the stranded man to join in.