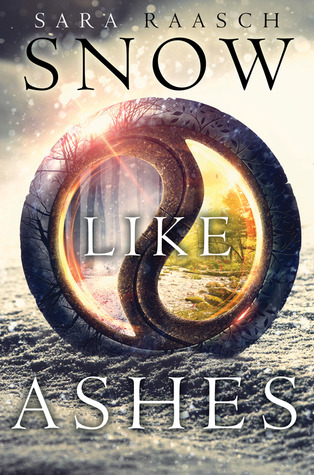 Title: Snow Like Ashes
Author: Sara Raasch
Published: October 14, 2014
Publisher: Balzer + Bray
Series or standalone: Snow Like Ashes #1
Format: paperback
Summary from Good Reads:
A heartbroken girl. A fierce warrior. A hero in the making.
Sixteen years ago the Kingdom of Winter was conquered and its citizens enslaved, leaving them without magic or a monarch. Now, the Winterians' only hope for freedom is the eight survivors who managed to escape, and who have been waiting for the opportunity to steal back Winter's magic and rebuild the kingdom ever since.
Orphaned as an infant during Winter's defeat, Meira has lived her whole life as a refugee, raised by the Winterians' general, Sir. Training to be a warrior—and desperately in love with her best friend, and future king, Mather — she would do anything to help her kingdom rise to power again.
So when scouts discover the location of the ancient locket that can restore Winter's magic, Meira decides to go after it herself. Finally, she's scaling towers, fighting enemy soldiers, and serving her kingdom just as she's always dreamed she would. But the mission doesn't go as planned, and Meira soon finds herself thrust into a world of evil magic and dangerous politics – and ultimately comes to realize that her destiny is not, never has been, her own.
I saw the cover of this book in Wal-Mart and was immediately drawn in. I will say I'm not particularly a huge fan of fantasy. I like some of it especially when it deals with mermaids, but this is clearly not a mermaid book.
I was hesitant after I read the synopsis because I try, for the most part, to stay away from dark books. Definitely was afraid to pick up the book because of this. I finally decided to read it about 2 years later and was right on it being a darker book. Maybe, the better word would be heavy.
I never have read fantasy books that had kingdoms based on seasons, and I really enjoyed that. I really am a newb when it comes to fantasy. I loved that people from a specific kingdom looked a certain race, similar clothing, etc.
Character-wise, I did not care for Meira much. I sometimes felt for her, but I am put off my the war torn, hard-edge girl that can is displayed a lot. I loved reading about Meira and Mather together but that quickly changed. There is a love triangle in this. Enter Theron, a prince of the Summer Kingdom.
I was like, "oh, no," when I Theron entered the picture. I normally don't have problems with love triangles and actually prefer having them in books. However, I was already invested with Mather. I really ended up liking Theron and do think I'm leaning forward more to his direction.
Meira was so blasé in how she dropped her feelings for Mather so quickly at a certain point in the book because I feel like someone in that situation would have at least felt sad instead of cutting feelings off completely. This made me have very negative feelings toward Meira.
I do like Theron and am unclear if I really like him more than Mather.
Meira and Mather have been through a lot and I believe he deserved better.
There was something that I suspected would happen and it did. However, something happened that reversed it, which I feel happy and cheated. I am so conflicted on how I feel about what I'm alluding, too.
Overall, I'm pretty surprised that I loved the book like I did, but I didn't like how violent it got or some cursing. It only cussed maybe 4 or so times, so it's not as much as I have read.