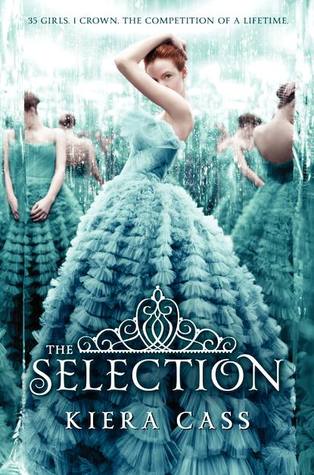 Title: The Selection
Author: Kiera Cass
Published: April 24, 2012
Publisher: HarperTeen
Series or standalone: The Selection #1
Format: paperback
For thirty-five girls, the Selection is the chance of a lifetime. The opportunity to escape the life laid out for them since birth. To be swept up in a world of glittering gowns and priceless jewels. To live in a palace and compete for the heart of gorgeous Prince Maxon.

But for America Singer, being Selected is a nightmare. It means turning her back on her secret love with Aspen, who is a caste below her. Leaving her home to enter a fierce competition for a crown she doesn't want. Living in a palace that is constantly threatened by violent rebel attacks.

Then America meets Prince Maxon. Gradually, she starts to question all the plans she's made for herself—and realizes that the life she's always dreamed of may not compare to a future she never imagined.
I started to read this before and remember loving it so much, but I feel like I didn't love it like I did then. I only got to like 100 pages I think. I believe I would have given it five stars if I didn't wait so long to read it.
I don't read a lot of dystopian books, and I always say that I'm iffy on them. I do get intrigued by some. One element that I feel like I enjoy are the caste systems in dystopians. I really enjoyed this one and do believe I enjoyed this so much because of the competition, royalty, and contemporary aspects of the book.
I definitely remember rooting for the opposite person in the love triangle and found myself wanting to root for that person this time, but I think I am close if not to switching sides. I do know who America ends up with though. That still doesn't change the love triangle struggle for me.
I will mention that I felt uncomfortable through some of the kissing scenes because of some occurring in America's bedroom. I do not like those kind of scenes in books. I know others won't be bothered with it, but I definitely was.
I think that is one reason this book got a 4 stars for me. I'm still looking forward to reading the other books in this series and the duology spin on this trilogy.