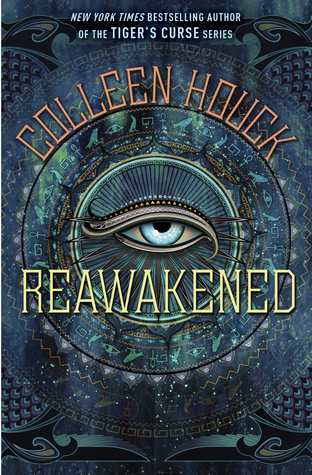 Series: Reawakened
Published: August 11, 2015
Publisher: Delacorte Press
Summary from Goodreads:
When seventeen-year-old Lilliana Young enters the Metropolitan Museum of Art one morning during spring break, the last thing she expects to find is a live Egyptian prince with godlike powers, who has been reawakened after a thousand years of mummification.
And she really can't imagine being chosen to aid him in an epic quest that will lead them across the globe to find his brothers and complete a grand ceremony that will save mankind.
But fate has taken hold of Lily, and she, along with her sun prince, Amon, must travel to the Valley of the Kings, raise his brothers, and stop an evil, shape-shifting god named Seth from taking over the world.
From
New York Times
bestselling author Colleen Houck comes an epic adventure about two star-crossed teens who must battle mythical forces and ancient curses on a journey with more twists and turns than the Nile itself.
I've read reviews that compare this to Tiger's Curse series, but these are two completely different series. Yes, there are brothers in the series, mythology, a teacher figure, and an epic quest. However, it doesn't read like Tiger's Curse. The characters are completely different when comparing each series.
I believe, for the most part, people that loved Tiger's Curse series probably will like or not like this book, while others that only liked the Tiger's Curse series, will love and enjoy this book much more. I fall in the first category. For me, I loved the sweetness and otherworldliness I felt Ren possessed and loved the naivety and sweetness that Kelsey had more than the main characters, Lily and Amon.
I'm a big advocate of not comparing books to other books and trying to enjoy books as completely separate books. I'll admit, it was definitely hard for me not to do it to Reawakened. I loved the detailed imagery and overall feeling of Tiger's Curse so much, I feel like I hyped this series up way too much for myself.
That's one reason I think people don't enjoy Tiger's Curse as much. Anybody that felt like this with that series should love this series more because I don't feel like Colleen had a lot of descriptions. I think this book could have benefited more from it. I felt like this book lacked story building.
I didn't mind Lily much, but I couldn't stand Amon at first. I thought he read pretty conceited in the beginning, and it took me a while to like him as a character.
I wish Colleen drew out the adventure and quest aspect to this book more. I come to her books looking for a gut-wrenching romance and lots of adventure and heartbreak. I got none of that magical feeling out of this book. I still liked this book, but it definitely did not meet my expectations.